3M™ Scotchgard™ Multi-Layer Protective Film
---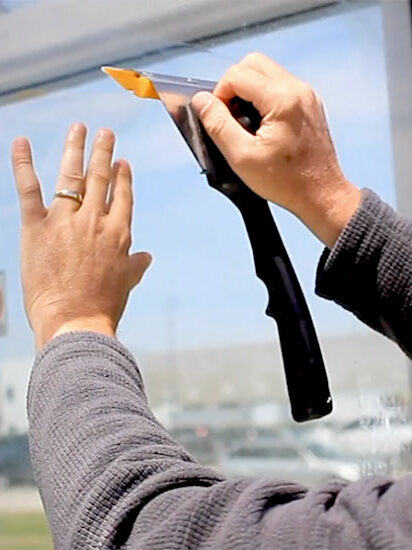 For best results, the surface must be clean and free of dirt, debris and oils and should be applied when the surface temperature exceeds 50°F (10°C).
Use of an application solution and Heavy Duty Squeegee is suggested for easy positioning and squeegee application.
Removal of film layers immediately after wet application is not recommended.
Use of a film removal tool is recommended for easy peel-back of the target layer.
For detailed Application Instructions and Tips, see 3M Technical Bulletin (70 – 0709 – 5334 – 7).
Some acrylic and polycarbonate substrates have low surface energy coatings and/or may out-gas, leading to bubbling or adhesion issues. Test before use.
Not approved as a glazing material for windshields requiring conformance to Federal Code 49 CFR 571.205. This standard applies to passenger cars, multipurpose passenger vehicles, trucks, buses, motorcycles, slide-in campers and pick-up covers.
May be used outdoors for short-term use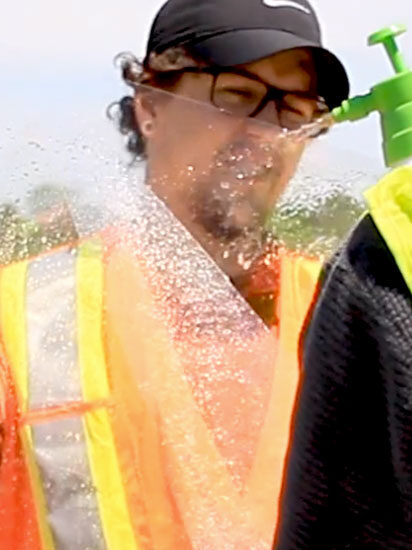 Anti-graffiti Film Protection Kit 
Scotchgard™ Protective Film Application Kit (3M Part No. 7 0-07 10 -4666-1) includes: (clockwise) Heavy Duty Squeegee and ten Slick Surface Squeegee Replacement Tape Strips (3M™ Squeak Reduction Tape 5430), two film removal tools and holders and 3M™ Hand Applicator PA-1 Wipe.

Premium window Film Application And Removal
3M™ Scotchgard™ Protective Film Application Kit (3M Part No. 70 – 0710 – 4666 – 1) includes: Heavy Duty Squeegee and ten Slick Surface Squeegee Replacement Tape Strips (3M™ Squeak Reduction Tape 5430), two film removal tools and holders and 3M™ Hand Applicator PA-1 Wipe. Pieces contained in Kit are also sold separately. Contact us for more information. Other tools and solutions suggested for application of Scotchgard™ Protective Films include:
Film Application Tools
4" wide blade scraper
32 fl. oz spray bottle
Lint-free paper towels/clean rags
Rubber-tipped squeegee
3M™ Masking Tape
Film Removal Solutions
Johnson's Baby Shampoo (by Johnson & Johnson) or Joy Dishwashing Detergent
3M™ Glass Cleaner
70% Isopropyl Alcohol, 30% Water
---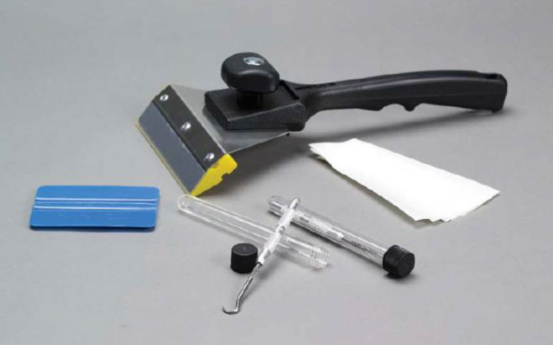 ---
Anti-graffiti protection film can be used on a variety of surfaces 
Advertising Panels
Bathroom Partitions
Bus Windows
Bus Shelters
CNC Machine Observation Windows
Counters
Digital Cases
Digital Displays
Digital Screens
Digital Cases
Flat Doors
Elevator Doors
Elevator Walls
Elevators
Escalator Side Panels
Escalators
Exterior housing
Gas Pumps
Glass Surfaces
Heavy Equipment
High Touch Areas
Interior Panels
Kiosks
Map and Display Cases
Map Panels
Menu Board
Mirrors
Pay Stations
Platform Signage
Retail Displays
Restrooms
Sandblast and Paint Booths
Seating Areas
Security Booths
Side and Back Glass Panels
Slot Machines
Stations
Terminal Entrances
Train Windows
Bus Windows
Transit Windows
Wall Panels
Washroom Mirrors
Windows